Hey y'all! Man, can you believe that it's already May? I mean really, where is this year going and why is it trying to get there so fast!
How was your weekend? Mine was just wonderful.
Friday night, we had a little get together for my friend Amber who is getting married in... oh... 18 days! I didn't take any pictures :( but we did have a great time! It's always nice to get away and have time with the girls.
Saturday some of the girls went to Double Decker in Oxford, but unfortunately I didn't get to go :(. Some of our shingles blew off our house and caused a major roof leak in Tucker's room. Since the forecast was calling for major rains again this week, Justin had to fix the roof which left me with no one to watch Tuck.
We just hung out around the house and spent time together... it was WONDERFUL!
Here are a few pictures of our Saturday.
The Easter Bunny brought Tucker this Ole Miss hat... we didn't think he would ever wear it but he did!
Tucker helping Daddy mow the yard.
We finally put sand in Tucker's sandbox... not near enough especially since he threw most of it out!
He loved it!
Our little visitor from next door.
Raking up the rocks with his new play rake his grandparents gave him.
Recently I had the chance to read Michael Oher's
"I Beat the Odds: From Homelessness to the Blind Side"
. I really love Ole Miss and was really excited when the movie about Michael came out. Justin and I went and watched it and I cried like a baby! It was very interesting to see the differences between the movie and what really went on in Michael's life. If you haven't had the chance to read the book, I highly recommend you do so. It's hard to believe that people actually live the way Michael lived before the Tuohy's took him in.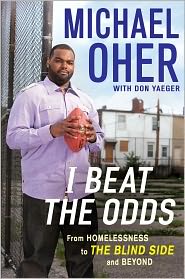 I am almost done with
The Help
by Mississippi writer Kathryn Stockett. My SIL let me borrow the book and told me how much she enjoyed it. I have absolutely loved reading this book. The book is set back in segregated Mississippi in the 60's. It's a fictional book of black maids giving their accounts of working for white men and women and then writing a book of their stories. The book is kinda comical in a way and eye opening in another. I would definitely recommend this book!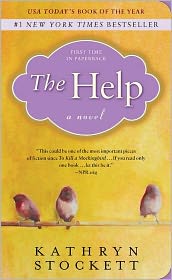 What are you reading? I'm planning on reading "Water for Elephants", "Something Borrowed", and "Something Blue". Any other suggestions?
Well y'all, I hope your Tuesday has been wonderful! I'll be packing this afternoon for our mini-vaca which I'll be telling y'all about tomorrow. Have a lovely day!